Holiday Accommodation with a Difference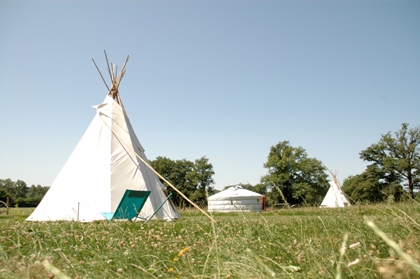 Tipis and yurts offer a luxurious camping experience, with just a little something extra. They really are holiday accommodation with a difference. The beauty and image of tipis delights children and adults alike, whilst the stunning style of a yurt marries practicality with romance.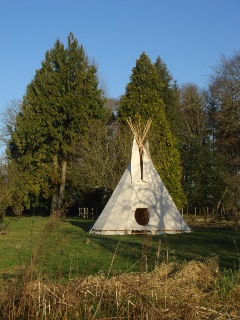 The tipis and one of the yurts are 5 metres diameter which will sleep 6 comfortably, we now have a 6 metre yurt which will sleep up to 8. They are positioned carefully and individually in one of our prettiest fields. This is a small, exclusive site. Check our 2013 availability calendar. The tipis and yurts are furnished with futon beds, mattresses, and bedding. Linen and towels are provided. They have tables, chairs, rugs, cushions and all the crockery, glasses and cooking equipment you will need.
Remember we do not charge extra for bedding, towels, travel cots or wood. It is ALL included in the price.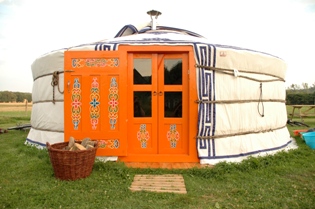 BREAKFAST is included in your stay; we provide coffee, tea, hot chocolate, baguettes, and a selection of jams(and Nutella of course), free of charge. We make a bakery run every morning for fresh croissants, pain chocolat etc.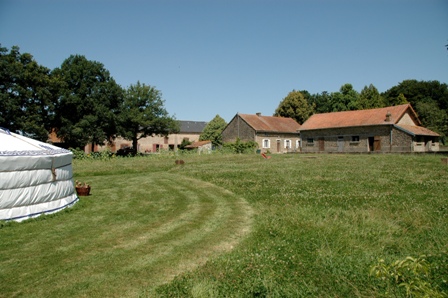 Each tipi or yurt has a central chiminea, or wood burning stove and wood supply, to keep the inside beautifully cosy. Outdoor campfires for each tipi and yurt provide campfire cooking areas and potential for 'ging gang gooley'. See more of the tipis and yurts.

"Thank you again for such a wonderful week, the children are talking about it constantly and can't wait to come back." Mark, Melanie, Ben, Alex, Felicity & Celia, England.



Facilities in the Renovated Farmhouse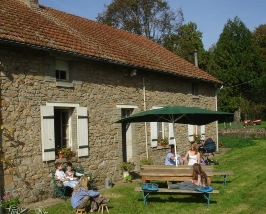 The renovated farmhouse provides visitors with a shared, fully fitted kitchen, which is equipped for 'normal' cooking. There is so much superb local, home grown produce available, a campfire might just not be enough.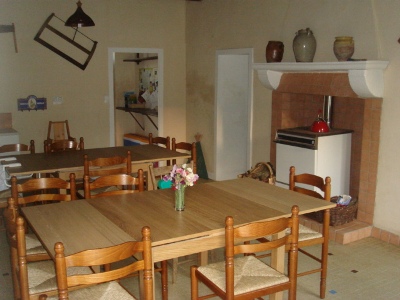 The large dining room/common room provides ample space for eating, relaxing and hiding from the midday sun. There is a laundry room with washing machine.
Each tipi and yurt has a private shower room, located in the farmhouse. This private facility will be allocated to you on arrival and allow you to store your toiletries and any other personal belongings in security.
As the tipis and yurts do not have electricity, we provide ice boxes, and there is also a large shared fridge in the farmhouse.The freezer in the farmhouse has a large supply of ice packs to ensure ice boxes can be kept cool.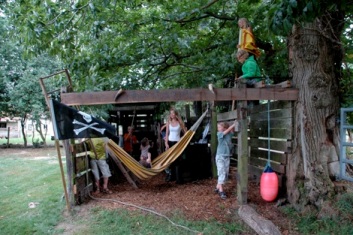 The farmhouse garden is furnished with tables, chairs and parasols for apperitifs, dining or watching the sunset.
We are situated only 2 km from 'The Way Of St James', the ancient pilgrimage route to Santiago de Compostela in Galicia, Spain. We provide pilgrim accommodation for walkers, cyclist and even those pilgrims accompanied by their donkeys.
"What a place! What a great family! We want to be adopted!"- Neil, Beck, Mimi & Raffi, England.


See ecotourism and environment

Booking your holiday.

Return from Holiday Accommodation to Limousin Farm Holidays Home Page.