Enjoy delicious French food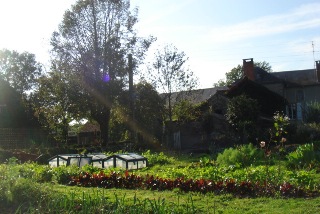 During your stay you'll have the chance to sample our delicious range of home produced food. In our farm shop we sell free range eggs, succulent lamb, a large range of seasonal fruit and vegetables, plus local honey, home made jams, chutneys and preserves. Your kids will love helping us pick vegetables, collect eggs and feed the chickens. And in late summer you can take to the woods en famille to forage for blackberries, nuts and mushrooms.
Cooking and eating al fresco around the campfire is an experience you and your kids won't want to miss. The aroma and flavours of open fire cooking is something to relish, especially when you've worked up an appetite having fun in the great outdoors. Your tipi or yurt has its own campfire with all the requisite pots and cooking equipment. Plus, we have gas burners, and in the adjacent farmhouse, there's a fully equipped kitchen so if you want to cook indoors for a change, you'll find everything you need.

Al fresco barbeque nights
Monday night is barbecue night at La Tuilerie when we cook a selection of our farm-reared meat over logs sourced from our woodland and everyone gathers around for some delicious wood-smoked food. We make a selection of salads and desserts using our fresh, garden produce. This fun, relaxing evening is the perfect opportunity to have a night off from cooking and get to know your fellow campers.
Dinner is served
Friday evenings are a real gastronomic treat at La Tuilerie. It's when all our guests are invited to join us for a four-course 'table d'hôte' dinner, a culinary feast made from the best of our freshly picked, flavoursome home produce. Everyone gets together around the table in the farmhouse garden for an evening to remember. There's a set menu plus veggie options and kids' portions so everyone can join in. See some sample table d'hôte menus.