Our yurts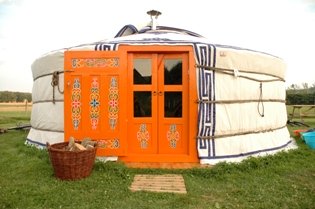 We have two traditional Mongolian yurts, beautifully decorated inside and out. Our standard yurt sleeps up to five people, our large yurt up to seven. Each built on panelled, wooden base to give a solid floor. One large room with your chosen configuration of double and single futon beds gives you lots of room to relax and enjoy your farming holiday.

Traditional decoration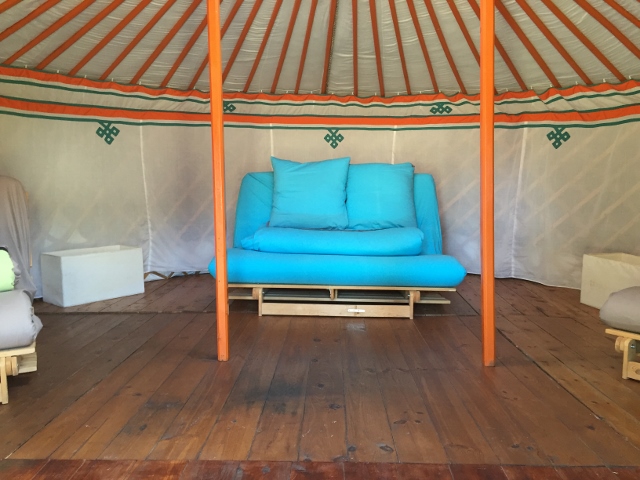 Outside, the striking blue and white cover conceals the canvas and felt layers that will keep you dry and snug. Inside your yurt, decorated wall fabrics, hang below a ceiling made up of dozens of attractively painted roof poles. A glazed dome and interior doors fill the room with light during the day. Pull over the chapeau and shut the outer doors and the yurt is dark and cosy for sleeping. Even the sunrise can't break-in and our parents love the lie-in they get when their children sleep late.

Seating and sleeping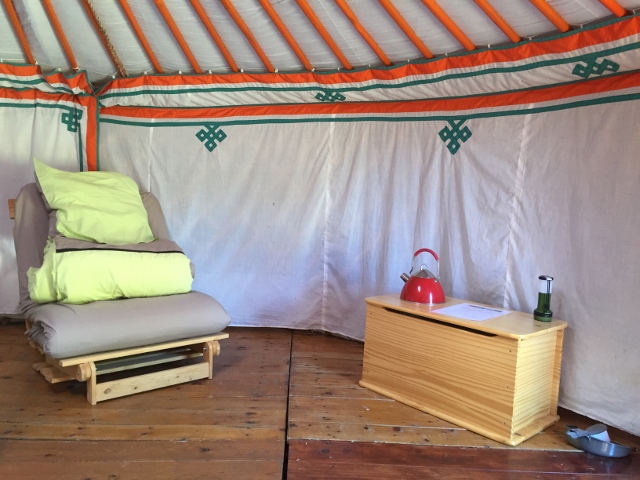 Your futons provide relaxing seating during the day and unfold to become beds with comfy mattresses at night. Duvets, pillows and fresh bedlinen are all included. We can also provide travel cots for babies.  We provide storage boxes for your belongings, lamps for reading, and torches so you can move around the site at night.
Fire pit and alfresco dining
Next to your yurt is a fire pit and we supply a Dutch oven and fire safe pans and utensils for cooking over an open fire. Wood is free. Plates, bowls and cutlery are provided in each yurt, or use the crockery and cutlery in the camp house.  A picnic table with benches is provided so you can dine alfresco.
Each yurt has a private shower room and toilet in the camp house. Here you will find additional towels. You also have use of the communal, kitchen, dining room, children's playroom and laundry.