Stress-free holidays for your babies and toddlers
Whatever the age of your children, at Limousin Farm Holidays, we can guarantee you'll enjoy a worry-free and relaxed holiday. For a start, the campsite is completely enclosed so your kids will be able to roam free and be safe at all times. To make your life easy, we provide all the normal baby and toddler kit including travel cots, high chairs, push chairs and a papoose, plastic crockery and cutlery.

Toys and activities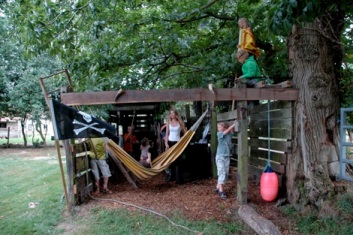 There are lots of toys in our farmhouse playroom to keep your little ones happy, great if it rains or gets too hot outside. There are lots of sit-on and pull-along toys while the play area is a hub of imaginative play with swings, sandpit, tree trunks to climb on and dens to explore.

The best time to visit for young children
Avoid peak season on a baby and toddler holiday and you'll find the weather is warm rather than hot and there'll be lots going on with the animals which young children find really fascinating. Visit us in June and you'll see the baby lambs and calves and watch the tractors making hay.